CBT-65 Concertina Razor Wire Coils,Military Razor Barbed Wire
CBT-65 razor wire, also known as concertina razor wire coils, its anti-theft capability is more widely used than ordinary razor wire (BTO-22).
CBT-65 razor wire says its model. 65 is the length of the blade, which is 65mm. The thickness of the blade is also different from that of BTO-22. The thickness of the barbed wire of the CBT-65 blade is 0.6mm, the wire diameter is 2.6mm, the blade width is 21mm, and the blade spacing is 100mm (two distance between blades).
The circle diameter of CBT-65 razor wire range: 30cm-98cm, of which 50cm, 60cm, 100cm are commonly used, and other specifications can be customized according to customer needs.
Installation method of CBT-65 razor wire:
The single-spiral blade barbed wire installation method is installed in the form of direct expansion without the need for a buckle between the two circles.
Use V-shaped or Y-shaped brackets, chassis fixing bolts, hot-dip galvanized or stainless steel wire, with stainless steel buckles, and fix the pulled blade barbed wire. The distance between the circles is generally about 20-30cm.
As the blade is sharp, for the safety of the installer, wear protective gloves and tools for installation.
Packaging of CBT-65 razor wire: inner moisture-proof paper and outer braided tape to prevent moisture and rust, causing unnecessary losses.
The characteristics of CBT-65 stainless steel razor wire: it has the advantages of beautiful appearance, hard to damage, anti-corrosion, convenient construction, economical application and so on.
It is recommended to combine the blade barbed wire with the monitoring facility to achieve a more protective effect.

Galvanized RAZOR WIRE (3.6kg/Roll) #CBT65
razor wire CBT-65 - electro galvanized zinc
450mm diameter and 28 rings
straight length 46.5 mt per roll after pull open
standard covered length 7.5 mt
3.6kg/roll or 5roll/ctn​
| | | | | | |
| --- | --- | --- | --- | --- | --- |
| Model | Blade Thickness | Core Wire Diameter | Blade Length | Blade Width | Blade Space |
| CBT-65 | 0.6 ± 0.05 mm | 2.5 ± 0.1 mm | 65 ± 1 mm | 21 ± 1mm | 100 ± 1mm |
| | | | | |
| --- | --- | --- | --- | --- |
| Blade Type | Notes | Outside Diameter | Standard Length per Coil | No.of Loops |
| CBT-65 | Single Coil | 450mm | 7M-8M | 33 |
| CBT-65 | Single Coil | 500mm | 12M-13M | 56 |
| CBT-65 | Single Coil | 700mm | 13M-14M | 56 |
| CBT-65 | Single Coil | 960mm | 14M-15M | 56 |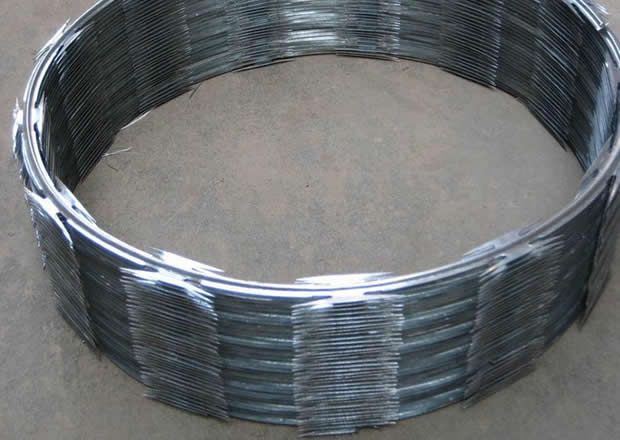 Customized Specifications
CBT-65 blade hot-dipped galvanized razor concertina wire coils on the fence top.
SS304 Blade Concertina Wire Diameter: 900mm loop 52 spiral and razor barbed wire with plastic tape.
Concertina razor wire (24" dia) material: ASTM a403 stainless steel.
CBT-65 razor wire in Stainless Steel 430, diameter 400mm, length 12,8m, 3,52kg/roll.
CBT-65 GALVANIZED RAZOR COIL FENCING
DIameter of wire 2.5mm
Weight per coil 4.5 kg.
Coil diameter 45cm
Hot dipped galvanized CBT-65 razor wire
18" diameter. 50ft. coil length.
Core wire metal ; #45steel
Wire diameter 2.5+1mm
Blade thickness : 0.06+0.05mm
Blade length : 65+2mm
Blade width : 21+1mm
Blade spacing : 100+2mm
Weight : 4.2kg/Roll
5 Roll per Carton/ 21Kgs/Box
Razor wire must be of high quality steel weather and water resistant.
Hot Dipped Galvanized CBT-65 Razor Wire
Concertina Barbed Tape (CBT), 18" diameter, 50ft coil length
Core Wire Material: #45 steel
Wire diameter: 2.5+1 mm
Blade thickness: 0.06+0.05mm
Blade length: 65+2mm, Blade width: 21+1 mm
Blade Sapcing: 1 00+2mm, Weight: 4.2kg/roll, 5 rolls/carton.
Razor wire CBT-65 single loop with clips
innner wire : hot dipped galvanized wire 30g-50/m2,2.5mm
sheet: hot dipped galvanized ,0.5mm
weight:4.15kg/coil
install length:6-8m
coil diameter: 450mm
Thickness 0.5mm(±0.05mm)
Wire diameter. 2.5mm(±0.1mm)
Barb Length 65mm(±2mm)
Barb Width 21mm(±1mm)
packing water-proof paper inside, woven bag outside.
500mm Stainless Steel CBT-65 Concertina (10m) (Razor Wire)