Crossed Concertina Razor Wire
Concertina Razor Wire has continuous spirals which are fasten two razor wire loops together at various intervals with clips. Concertina cross type razor wire enjoys good appearance, practical use and can ensure stronger protection.
Spiral razor wire types: single coil razor wire,double and crossed coils razor wire.
The characteristics of the single-loop blade razor wire: no clips are required, and it is installed according to its natural unfolded shape.
Features of the double-spiral crossed razor wire: The spiral-shaped crossed blade razor wire is strongly clamped between two blade razor wire by a stainless steel sheet and a galvanized steel sheet.
Each roll of spiral cross wire (galvanized) consists of a single strand of rigid helical steel wire and a blade, and the thorns are evenly distributed on it. The inner circumference between the crossed circles is evenly fixed by clips, and when stretched, a diamond-shaped mesh is formed.
When fully stretched, each cross roll easily unfolds to form a cylindrical fence.
The razor wire can be easily and quickly installed on top of existing fences and strong high walls, can also be installed in trenches on roofs or placed on the ground itself.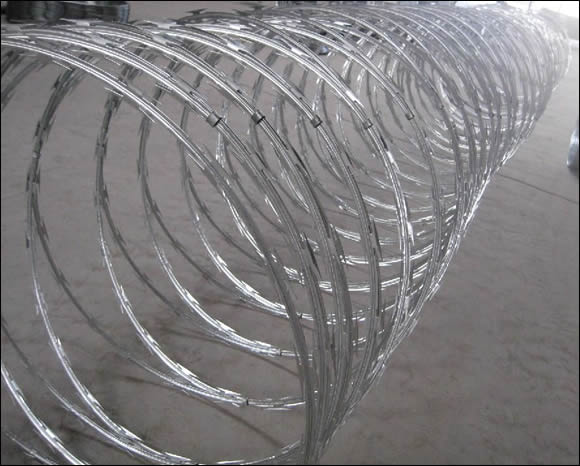 BTO-22 Galvanized Military Concertina Razor Wire Fence Cross Concertina Wire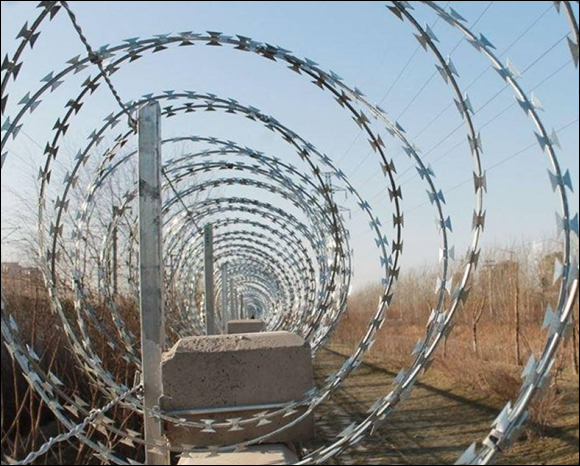 Concertina Razor Wire: Cross & Single Type
Crossed Spiral Concertina Coil of 450 mm diameter (72 coils/rolls)
Specifications:
i) Made of hot dipped galvanized steel razor Coil.
ii) Central Core of High Tensile G.I spring steel core,Wire of 2.2+-0.1 mm diameter.
iii) Machine crimped tape of razor shape steel sheet blade (Low carbon GI strip) of length 10mm, width 13+-1 mm, thickness of 0.5+-0.005 mm, blade spacing: 25-+-1.
iv) One roll of concertina coil shall consist approx 56 turns/circle per unit.
v) One roll of concertina coil shall be expandable upto 5-6m length.
vi) One roll of concertina coil shall weight about 7kg +-5%.