razor barbed tape
Razor barbed tape is a kind of modern security fencing material fabricated with razor-sharp steel blade and high-tensile wire, offering higher security level deterrence over the traditional stranded barbed wires. Barbed Tape can be installed to achieve the result of frightening and stopping to the aggressive perimeter intruders, with sharp piecing and cutting razor blades mounted at the top of the wall, top of metal steel fencing panels to make climbing and touching extremely difficult. Concertina Razor Wire Barbed Tape is a long lasting and effective barrier trusted by security professionals and it is almost impossible to cut or destroy the razor blade tape without highly specialized tools.
The wire and steel strip are galvanized against corrosion for outdoor uses:
Hot dipped galvanized barbed tape is treated with a thermal galvanizing that can effectively increase the strength and corrosion resistance of the carbon steel plate and wire materials. The processing of hot dipped zinc plating ensures a uniform zinc coating for the barbed tape and the strength of the coating.
Compared with stainless steel razor wire barbed tape, thermal galvanized barbed tape has less cost.
Barbed Razor Tape has higher strength over twisted Barbed Wire:
Twisted steel barbed wire is made of thermal galvanized steel wire at diameter of 2.5 mm, and the razor barbed tapes are made by stamping and hot-dip galvanized steel plate at thickness of 0.55 mm. Barbed tapes of various sizes can be made according to the specific requirements.
Razor wire barbed tape can be classified into BTC (barbed tape concertina) and BTO ( barbed tape obstacle), with detail information listed as below. BTC refers to long blade concertina barbed tape usually while BTO refers to short blade barbed tape.
Barbed Tape Concertina (BTC);Barbed Tape Obstacle (BTO) Standard materials are either galvanized or stainless steel.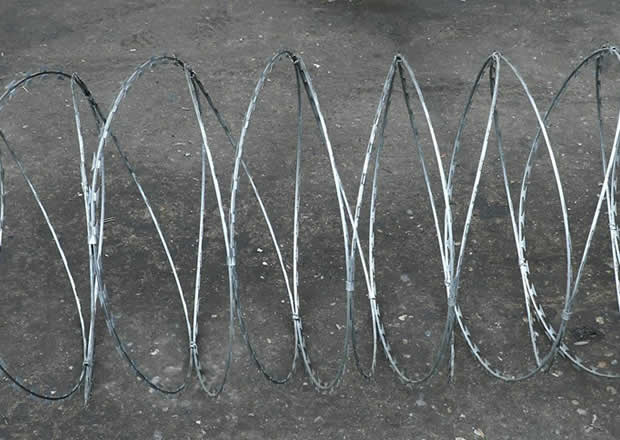 CBT-65 Galvanized Concertina Razor Barbed Wire Tape
Material: Razor wire is usually made of hot dipped galvanized wire and steel plate. Or stainless steel wire and plate.
Outside diameter : 450mm, 500mm, 600mm, 700mm, 800mm, 900mm, 960mm, 980mm, etc.
Number of Loops: 33, 56
Clips: 3 or 5 or no clips.
Package: Inner proof paper, outside weave bag or Carton.
Razor Wire Barbed Tapes Specifications:
Type
Wire Gauge (SWG)
Barb 
Spacing (mm)
Barbed Length (mm)
Electric Galvanized
&
Hot-dip Galvanized
10# x 12#
75-150
15-30
12# x 12#
12# x 14#
14# x 14#
14# x 16#
16# x 16#
16# x 18#
PVC coated
before coating
after coating
75-150
15-30
1.0mm -3.5mm
1.4mm -4.0mm
SWG11#-20#
SWG8#-17#
PVC coating thickness: 0.4mm -0.6mm ; different coating colors are available. 
Concertina Barbed Tape (Standard Use)
Outside Diameter
No. of Loops
Standard Length per Coil
Type
Notes
450mm
33
7-8M
CBT-60.65
Single coil
500mm
56
12-13M
CBT-60.65
Single coil
700mm
56
13-14M
CBT-60.65
Single coil
960mm
56
14-15M
CBT-60.65
Single coil
450mm
56
8-9M (3 CLIPS)
BTO-10.12.18.22.28.30
Cross type
500mm
56
9-10M (3 CLIPS)
BTO-10.12.18.22.28.30
Cross type
600mm
56
10-11M (3 CLIPS)
BTO-10.12.18.22.28.30
Cross type
600mm
56
8-10M (5 CLIPS)
BTO-10.12.18.22.28.30
Cross type
700mm
56
10-12M (5 CLIPS)
BTO-10.12.18.22.28.30
Cross type
800mm
56
11-13M (5 CLIPS)
BTO-10.12.18.22.28.30
Cross type
900mm
56
12-14M (5 CLIPS)
BTO-10.12.18.22.28.30
Cross type
960mm
56
13-15M (5 CLIPS)
BTO-10.12.18.22.28.30
Cross type
980mm
56
14-16M (5 CLIPS)
BTO-10.12.18.22.28.30
Cross typ

High Security Fence Barbed Tape Concertina Razor Wire
Applications:
Concertina Barbed Tape is been widely used by many countries in military field, prisons, detention houses, government buildings and other national security facilities,not only military and national security applications, but also for cottage and society fence, and other as follow:
military heavy land
prisons
government agencies
banks
residential community walls
private houses
villa walls, doors and windows
highways, railway guardrails
borders
Heavy duty razor barbed wire
Concertina Wire or razor wire is a type of jagged wire produced of galvanized or stainless steel, manufactured in large coils which can be expanded like an accordion, characterized as an element of passive safety.

Flat warp razor barbed wire is a new type of razor barbed wire. Metal Tec press the single loop razor barbed wire into flat, or press two loops into flat then expand them across. We usually use it together with been line razor barbed wire to build a defencing wall, or use it alone as a fence. It is normally used in community, storehouse, mine, prison, key sites of national defence, etc.
Cross Type Razor Barbed Wire it's also called Double Loops Razor Barbed Wire or Concertina Barbed Wire. It's produced by two pieces of stainless steel razor wire or Zinc-coated Wire which are bound together by clips to make it stronger.
Single Loop Razor Barbed Wire is also called single coil razor barbed wire, it's installed without clips and runs in natural loops on the top of walls or fencings. Single loop razor barbed wire is restless and can be easily installed.
Concertina Razor wire is widely used to manufacture the wire fence for a fencing system or security system.
It's mainly applied in military facilities, communication stations, power distribution stations, border line of the prison, landfill, community protection, schools, factories, farms and other security isolation.
Can be installed in the form of barbed tape wire or concertina coil to walls or fencing

Material: high carbon steel, galvanized steel sheet and wire, stainless steel sheet and wire. Usually, hot dipped galvanized razor barbed wire is popular in the market.
Surface finished: Electro galvanized, Hot dipped galvanized, PVC coated.

BTO-22 specification
Barb
Thickness (mm)
Core Wire
Diameter (mm)
Barb
Length (mm)
Barb
Width (mm)
Barb
Spacing (mm)
Outer
Diameter (mm)
0.3,
0.35,
0.4,
0.45,
0.5
2.0,
2.2,
2.5,
2.8
 22
 15
 36
300,
450,
900
 Razor barbed wire production process:
We use pneumatic clinching tool to install C-ring clip.
Air press: 90-120psi (6-8bars,60-80kg/cm).More faster and more stronger.
Application
Razor Barbed Wire is widely used in military affairs, prison, government, bank, and also in living wall, personal house, villatic wall, window, autobahn, railway and border of the fence.
Packaging & Shipping

1.compression rolls
2. water-proof paper inside woven bag outside or in carton
3.In pallets
4.as customer request