Double Twist, traditional twist, reverse twist.
Wire Materials: Galvanized steel wire, PVC coated iron wire in blue, green, yellow and other colors.
Weaving process: twist weaving; galvanized.
Features: Sturdy and beautiful.
Blade barbed wire: galvanized sheet or stainless steel sheet stamping
Uses: used for anti-theft and protection in factories, private villas, the first floor of residential buildings, construction sites, banks, banknote printing factories, military sites, bungalows, low walls and other places.
Twisting of barbed wire: traditional twist barbed wire, reverse twist.
Traditional twisting : It is to twist two or more iron wires into a double-strand wire rope and then wrap the barbed wire around the double-strand iron wire.
Reverse-twisting: firstly wrap the barbed wire around the main wire (that is, a single wire), then add another wire and twist it into a double-strand barbed wire.
Double twist barbed wire
Material: Galvanised steel sheet and wire or stainless steel sheet and wire.
Twist method: double twist.
Finish: hot dipped galvanised.
Barbed length: 22mm
Colour: Silver
Razor Barbed Type: cross razor
Barbed distance: 6"
Specification: wire gauge (SWG) 12# x 12#
Coil oitide diameter: 700mm (70cm)
Length: 10m - 12m per roll
Barbed Wire Stretcher-Splicer
Barbed Stretcher-Splicer: Use for Splicing, stretching, and epositioning high tensile, barbed, or smooth wire fences
Material: Heavy Duty Steel
Dimension (cm): (Approx) 80x20x5
Weight (Kg): 1.5- 2.0kg
Features: Great Protection
Frame finishing: Powder Coated
Colour: Blue, Red or Golden
Operation: Controlled release holding ratchet to reduce line stress when wire is released
Packing
Waterproof paper inside then plastic film outside. Sealed in wooden boxes for easy transportation.
Barbed Wire Bundle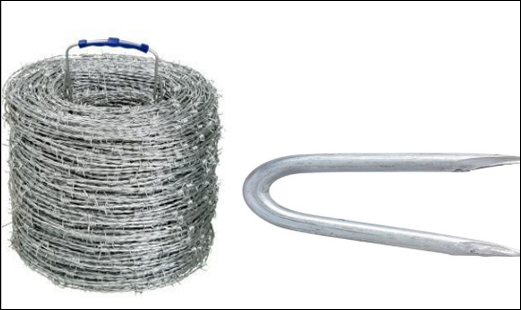 Barbed coil wire with great protection for fencing purposes (Each roll has total length of 400m)
Material: Galvanized steel
Twin strand "continuous torsion" type construction
Construction: The barbs shall have four points and shall be formed by twisting two-point wires, each two turns, tightly around both line wires making altogether four complete turns
Colour: Silver
Spacing between barbs: 70 - 80 mm
Continuous Wire Diameter: 2.5 mm
Wire Guard: 1.4 - 2.6 mm
The weight of the barbed wire (g/m): 120 – 155
The diameter of the bundle: 25- 35 cm
Surface treatment: P.V.C. coated
Razor Type: Cross Razor
Length of the wire in a bundle (Minimum) : 400 Meters
Reel size: approx. 400 m
Reel weight: approx. 50 kg
The wire to be distributed with matching galvanized
steel nails for its installation
Packing
Waterproof paper inside then plastic film outside with pallet. Wooden case. Based on customer's requirement for shipment.
Tensile strength (N/mm2) 390- 590
Minimum breaking load of completed wire (kN) 3.0–3.7
Gauge of
Strand and Barb in B.W.G.

Approximate Length per Kilo in Meter

Barbs Spacing 3"

Barbs Spacing 4"

Barbs Spacing 5"

Barbs Spacing 6"

12x12

6.0617

6.7590

7.2700

7.6376

12x14

7.3335

7.9051

8.3015

8.5741

12-1/2x12-1/2

6.9223

7.7190

8.3022

8.7221

12-1/2x14

8.1096

8.814

9.2242

9.5620

13x13

7.9808

8.899

9.5721

10.0553

13x14

8.8448

9.6899

10.2923

10.7146

13-1/2x14

9.6079

10.6134

11.4705

11.8553

14x14

10.4569

11.6590

12.5423

13.1752

14-1/2x14-1/2

11.9875

13.3671

14.3781

15.1034

15x15

13.8927

15.4942

16.6666

17.5070

15-1/2x15-1/2

15.3491

17.1144

18.4060

19.3386
double twisted hot dipped galvanized barbed wire.

Twist type: double twisted.

Spikes: 4

Minimum breaking load: +350 Kgf

Alternating Torsion

Wire thickness: 1.63 mm.

Barbed distance: 5''.

Zinc coating: 240-250 g/m2.

Tensile: 450 - 500 MPa.

Roll length: 100 m, 250 m, 500 m.