Razor Wire Chain Link Fence
Razor wire and chain link fence combined installation
INSTALLATION OF Y-ANGLE IRON AND SECURITY RAZOR BARB WIRE
ITEM 1: install Y- hangers to be embedded in cement mortor mix on top of the fence ( Y- hangers spacing 2,000mm c/c
ITEM 2: install security concertina razor barb wire properly ositioned on top of the chain link fence.
Install Y Steel fence post directly on low wall or concrete floor, install the flange unit, then install the chain link fence mesh panels below the V shape of the Y steel post, and fix it.
Install the razor wire section. The blade razor wire is in the form of single loop razor barbed wire, double concertina razor wire (concertina coils or razor type barbed wire) or spiral cross-type razor wire. It is installed on the V-frame above the Y steel post, which is the top of the chain link fence.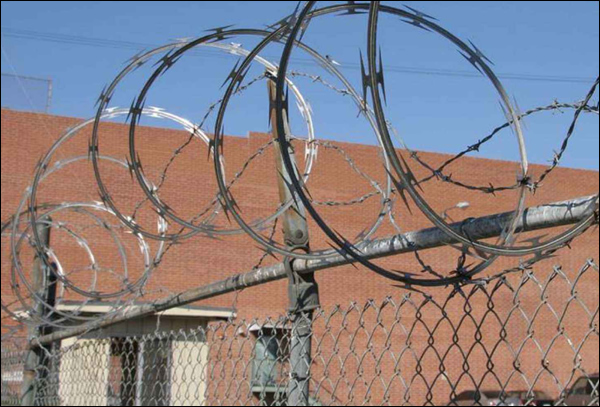 In this way, the fence system of the combination of razor wire+chain link fence is completed.
The chain link fence has good elasticity, good anti-collision performance and good protection. The blade of the razor wire on the upper end of the chain link fence is bright, giving people a sense of majesty. Let thieves be afraid when they see the razor wire.
The combination of chain link fence and razor wire is aesthetically pleasing. And the combination of chain link fence and razor wire has not only a big improvement in appearance, but also a big increase in performance.
The above is about how razor wire and chain link fence are combined.

Razor Wire Rolls, barb length( 28 mm),Chain Link Fence, wire diameter (2.5 mm)
razor wire on top of a chain link fence on the back of the property
Razor Wire
The distance between each loop of razor wire should be 20cm.
Barbed wire shall be twisted pair of No. 12 gauge aluminum coated wire with a 4 point .
14 gauge wire barbs on 900mm diameter wire.
Tie wires shall be No.9 gauge soft annealed aluminum coated steel.
Razor wire should be equipped with 2 Inch Angle iron stanchions (required for fixing razor wire), 2.5m length with one pointed end.
The total quantity of stanchions will be 5,000 pcs.
Chain link Fence
Chain Link 50mm mesh x 9 gauge galvanized. The Chain Link fence is to be used for repairs to the perimeter at base camp.
Installation of 18" coiled razor ribbon installed atop of New 3-strand (4-point) barb wire.
Chain link fabric to be 1-1/4" non-climb material.
All fence posts and rails to be ss-40 weight pipe.
Gates to utilize industrial 180 degree gate hinges and pad lockable drop rods.
Fencing Atop existing walls to be saddle mounted.
Galvanized Steel Chain link Fencing material
Chain Link
Material: galvanized steel or stainless steel wire
Colour: Silver
Wire Thickness (mm): 2 – 4
Length (m): 18 – 25
Height (m): 2.0 – 2.5
Aperture (cm) 3.0 – 5.0
Surface treatment: Galvanized, powder coating
Construction: Woven with twisted edges
Packing
Well secure rolls with both ends wrapped with suitable
materials for long distance transportation
Wire tensile strength (N/mm2) 390 -590
Minimum breaking load of completed wire (kN) 3.0 –3.7