Single Twist Barbed Wire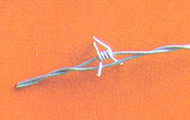 Wire Materials: Galvanized steel wire, PVC coated iron wire in blue, green, yellow and other colors.
General Use: Barbed wire mainly serves in protecting of grass boundary, railway, highway, etc.
Description

Line Wire

Barbing Wire

Handling Wire

Material

55 Carbon Steel

M.S As per BS 1052

M.S As per BS 1052

Thickness

3mm

2mm

2mm

 

Chemical Properties:

 

Carbon

0.5 ~ 0.6

0.08 ~ 0.13

0.08 ~ 0.13

Si

0.1 ~ 0.4

0.1 ~ 0.4

0.1 ~ 0.4

Mn

0.5 ~ 0.9

0.3 ~ 0.6

0.3 ~ 0.6

P

0.06 Max

0.06 Max

0.06 Max

S

0.06 Max

0.06 Max

0.06 Max

 

Physical Properties:

 

Tensile Strength

1235 MPa

925 MPa

385 MPa

Yield Srength

570 MPa

300 MPa

-

Elongation in (min)

12%

20%

-

Reduction in Area

        -

40%

-

Profile Stress

555 MPa

  -

-

Hardness

248 HV

105 HV

-
No. of turns of coil: 68
Diameter of coil: 1 Meter
Distance b/w barbs : 60.325 mm
Length of barbs: 15.81mm
Weight= 25 Kg Approx
Surface: ElectroGalvanizing + Bitumen Paint (Both)
Packing: Each bundle to be packed in Hessian Cloth
The line wire shall be fitted with four point barbs of mild steel wire at distance between Centres of 60 ± 15mm. They shall be twist tightly round the line wire with approximately 4 turns then sharp pointed in the form of a bevel at right angles to one another with a projection of 15-20 mm from the Centre line of wire.
The barbs should be set obliquely to the line wire, but must not be less than 450 . They shall also be fixed in such a manner that under normal conditions they will not slide along the line wire when subjected to an axial force of 50 Newton. They should (also having taken up any play) not rotate when subjected to torque of 0.1 Newton meters. The method used, however must not weaken the line wire.
After barbing the line wire shall be formed into coils of 68 ± 1 turns each being approximately 1 meter in diameter. The adjacent turn shall then be clipped together with mild steel clips at intervals of approximately 72 degree. each turn being clipped to the preceding turn by alternate clips and to the succeeding turn by the remaining clips. This should result in the clips being spaced around the coils in 5 tows so that a diamond pattern is produced when extending the coil into a cylinder 15 meters long ± 1/2 meter, and when closed into a coil without distortion.
please note that this is High tensile Wire not the regular barbed wire.

Wire Gauge
Barbs Spacing
180#×180#
1.96"--5.90"
200#×200#
220#×200#
220#×220#
250#×220#
260#×220#
270#×220#
280#×220#
300#×200#
200#×200#
single-coil barbed obstacle tape
Barbed obstacle tape shall be single-coil with 0.098 inch diameter stainless steel core wire, 30 inch diameter, core wire fabricated from spring quality stainless steel. The tape shall provide 4 needle sharp barbs 1.25 inches long (2.50 inches overall) at 4 inch intervals, positioned at the inner and outer and edges of the coils. The tape shall conform to AISI 430, stainless, rockwell hardness (30N) 40-45. Barbed obstacle tape loops shall be spaced on 12 inch centers, 51 loops per coil, 5 stainless clips per loop attachment.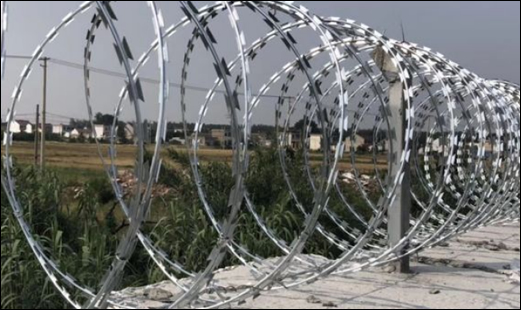 Stainless Steel Concertina Razer Tape 750mm Dia.