BTO-22 Welded Security Razor Mesh
We offer 3650 ft long by 2.5 ft high 200 x 200mm BTO-22 welded razor wire mesh  in the diamond pattern that is galvanized and powder coated.
Galvanized steel welded razor mesh having finished sizes of 1.80x6.00m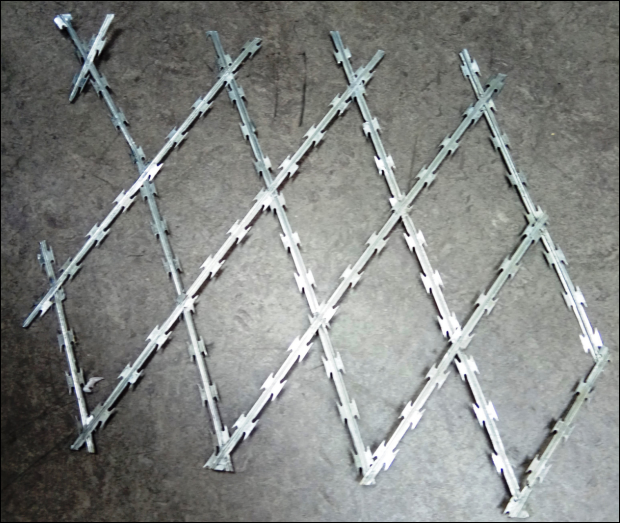 Welded Razor Mesh and Electrified Concertina Razor Wire
Specifications
The offered should have finished sizes of 1.80x6.00m, made of galvanized steel razors of 27 – 30mm, having thickness > 0.5mm in a straight distance among them of 40-50mm, width (upper razor and bottom razor plate) approx. 21mm and steel wire of > 2mm thick, having high tensile strength and above 1500MPa.
The rhombus shall have approx. 150x300mm sizes.
At the connecting points, both vertically and horizontally shall be over covered with staples/clips, according the manufacturer's instructions.
Galvanization
The galvanization of all parts of the welded razor mesh, having finished sizes of 1.80x6.00m and rhombus dimensions of 150x300mm shall be ≥210gr/m2.
Whenever on the galvanized parts are made any holes / processing, etc., the galvanization should be effected after these are made.
Packing
Shall be suggested from the supplier, for safety handling and transport arrangements.
Welded razor wire mesh with diamond mesh holes for the prison

Diamond mesh 25 x 2.0mm and25 x 2.5mm
Razor mesh (aperture size) 150mm x 300mm
"Y" standards 1850mm and 2450mm
Barbed Tape Concertinas 450mm and700mm all clipped
Galvanised posts 2400 x 48, 3000 x 48, 2400 x 76 and 3000 x 76.
Wooden posts 3000 x 50-75 and 3000 x 100-125
Razor Wire Mesh-6500 lf of Razor Wire Mesh x 90" H
Specs:
Stainless Galv Mesh
3" Wide x 6" Tall Mesh
Stainless Steel Clips To Attach to Round Posts
Fence will be installed as follows:
2-3/8" O.D. Line Posts
4" O.D. Terminal Posts
4 Rows of Tension Wire
1-5/8" O.D. Bottom Rail
Galvanized welded razor wire mesh with diamond mesh holes
Thickness: 0.5mm
Wire diameter: 2.50mm
Blade length: 300mm
Blade width: 180mm
Blade spacing: 451mm
Finish: Galvanized steel strip or stainless steel with cut blades
Tensile strength of the wire: 1500 N/ square millimeter
Finishing color: PVC coated cross razor wire coil (Color "Chocolate coffee" to match with existing color of steel balustrades forming the existing perimeter)
Diamond Razor Wire Fence/Welded Ripper Razor Strip
for razor diamond mesh Holes 150 mm * 300 mm
Galvanized , wire diameters 2.5 mm
Blades BTO-- 22
High 1.6 meters, length 3 meter or each bundle 18 meters .
Quantity 2500 meters .
Post 40 MM*40 MM* LENGTH 1.90 METERS THICKNESS 2MM
Welded razor wire description:
Welded razor wire mesh is also known as straight-line razor wire, is by the blade thorn rope straight welded together, is modified according to the welded wire mesh, main function is to guard against theft, climbing and isolation.
Material:
hot galvanized sheet and stainless steel sheet 304 316 and so on
Galvanized wire(Electro galvanized and hot dipped galvanized)
Specifications
Welded Razor Wire Mesh Hole Type
Square Hole Size:100mmx100mm,150mmx150mm,200mmx200mm
Diamond Hole Size:75mmx150mm,100mmx200mm,150mmx300mm.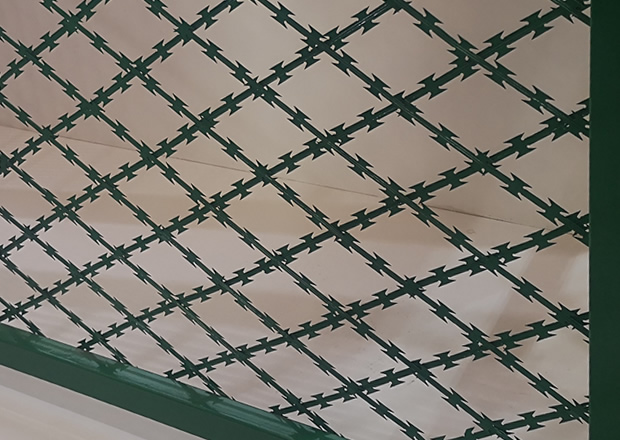 Welded Razor Wire Mesh Surface Treatment
Galvanized Coating: 50-60g/m2 , 80-100g/m2 , 200-250g/m
Pvc Coated Color: green, red, white etc.
Welded Razor Wire Mesh Application
Welded razor wire is mainly used for garden apartment, office unit, railway, highway, industry, agriculture, forest protection, military field,prison isolation protection and so on.
Welded Razor Wire Mesh Packing: in roll or in pallet.