Galvanized Razor Barbed Wire
For Galvanized razor barbed wire, we have many kinds: Single coil Razor Wire, Crossed Razor Wire, Flat warp razor wire, Razor Wire fence.
Galvanized Single Coil Razor Wire
Single coil Concertina Wire is installed without clips, it runs in natural loops on walls.Cost less and can be easily installed.
Galvanized Crossed Razor Wire
Two pieces of razor wire were bounded together by clips to make it more strength.The spiral intersecting barbed wire presents an intersecting shape after opening with beautiful feature and practicality.
Galvanized Razor Wire Fence
Welded razor mesh fence is a new form of razor bared wire mesh for security,it with practicality blade and the feature looks very beautiful.It can be used for guard fence ,doors and windows and also can be used in military.The specification can be designed as the customers' need.
Anti-rust Hot Dipped Galvanized Razor Barbed Wire
Product Description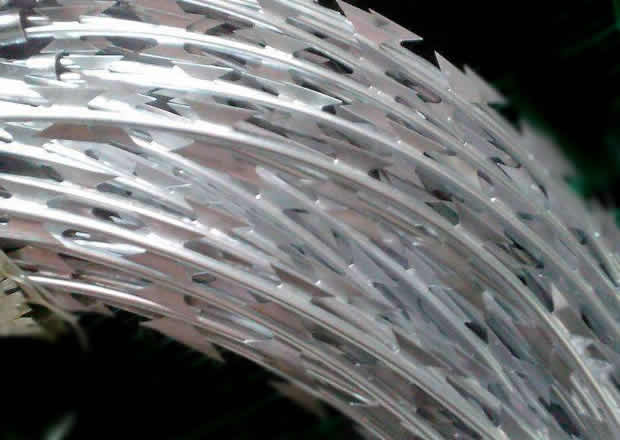 Material: Hot Dipped Galvanized sheet Hot Dipped Galvanized Wire
Core Wire Diameter: 2.7±0.1mm
Razor Barbed sheet thickness: 0.5±0.05mm
Razor Loop Diameter: 300mm, 400mm, 450mm, 500mm, 600mm, 700mm, 800mm, 900mm, 1000mm. 450mm(3 clips), 500mm(3 clips), 900mm(5 clips) are the usually sizes
Razor Barbed Wire per coil weight: Be produced as customers requirements.
Meters of per coil Razor Barbed Wire: the greater the stretch strength, the greater the distance between them.
Material
High quality low carbon steel wire,Iron wire,etc
Category

1,Hot dipped galvanized

2,Electric galvanized

3,PVC coated

Weving and Characteristic
Twist weaving,firm and beautiful,corrosion-resisting and oxidation-resisting
Using
Used as barrier for lawn,railways,expressways ,etc
Hot dip galvanzied razor blade concertina razor barbed wire security fencing

Material: high-quality low medium-carbon steel belt, stainless steel belt. razor-sharp steel blade, high-tensile wire
Blade thickness: 0.5+/-0.05mm
Coil diameter: 2.5+/-0.1mm
Blade length: 10mm, 12mm, 15mm, 18mm, 22mm or others
Process: blunt rolling.
Barbed type concertina (CBT); Barbed type obstacle (BTO)
Sort of razor wire: single loop razor wire, concertina razor wire, welded razor wire (razor wire mesh), flat razor wire.
Features: excellent protective performance, beautiful, variety, construction rapidly and the effect of deter is good, extremely
difficult to cut (high tensile core wire), hard to climb, height of 1.2, 1.8, 2.1, and 2.4 meters, does away with the need for a
fence topping.
BTO-22 Galvanized Steel Military Concertina Razor Wire Barbed wire
Specification
| | |
| --- | --- |
| Item | Value |
| Model Number | BTO 22 |
| Material | HIGH TENSILE |
| Surface Treatment | GALVANISED |
| Type | Barbed Wire Coil |
| Razor Type | BT0 22 |
Galvanized steel sheet concertina razor barbed wire
Gauge of
Strand and Barb in B.W.G.

Approximate Length per Kilo in Meter

Barbs Spacing 3"

Barbs Spacing 4"

Barbs Spacing 5"

Barbs Spacing 6"

12x12

6.0617

6.7590

7.2700

7.6376

12x14

7.3335

7.9051

8.3015

8.5741

12-1/2x12-1/2

6.9223

7.7190

8.3022

8.7221

12-1/2x14

8.1096

8.814

9.2242

9.5620

13x13

7.9808

8.899

9.5721

10.0553

13x14

8.8448

9.6899

10.2923

10.7146

13-1/2x14

9.6079

10.6134

11.4705

11.8553

14x14

10.4569

11.6590

12.5423

13.1752

14-1/2x14-1/2

11.9875

13.3671

14.3781

15.1034

15x15

13.8927

15.4942

16.6666

17.5070

15-1/2x15-1/2

15.3491

17.1144

18.4060

19.3386
Packing: Bulk, simple packing and carton packing.
Simple packing: inside is water proof paper and outside is woven bags and then compression.
Carton packing: razor mesh coils are loading into hard cartoon boxes