Flat Wrap Razor Wire
Flat razor barbed wire is a new type of razor barbed wire. We presse the single loop razor barbed wire into flat, or press two loops into flat then expand them across. We usually use it together with beenline razor barbed wire to build a defencing wall, or use it alone as a fence.
Features of flat razor wire: a new application method of blade razor barbed wire, it is used by flattening a single loop blade razor wire into a plate shape, or flattening two single loop razor wire and then crossing each other and staggering each other.
It can be used in combination with straight line razor wire to form a protective wall with the straight line below and the upper flat plate, or only the flat barbed wire can be used to form a protective wall.
Flat razor wire has beautiful and practical features, and is mainly suitable for protection and isolation in residential areas, warehouses, animal husbandry plants, farms, mines, prisons, defense centers and other places.
The thickness steel plate used by the flat razor wire is 0.5mm. Although the thin steel plate does not affect the protective effect of the blade wire mesh, it will reduce the service life in the long run.We provide razor barbed wire core wire uses high tension galvanized steel wire (the amount of zinc is not less than 40g/square). It has a long life and is not easy to be damaged; the overall structure of the buckle is firm and not easy to be damaged.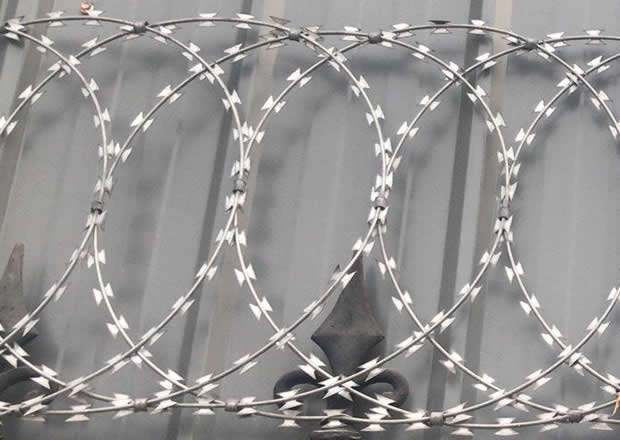 Flat Wrap Coils Razor Wire Security Barrier

Flat Razor Wire Wrap Coils

Flat Wrap Concertina Razor Wire